PASTEL LANDSCAPES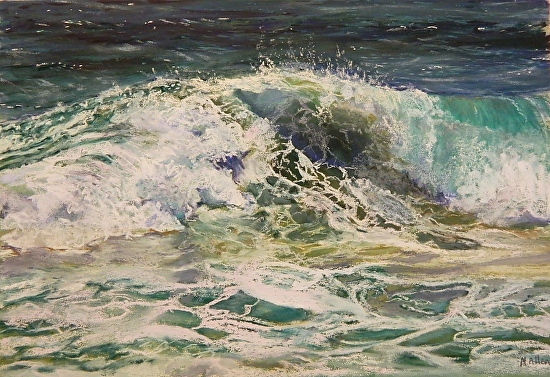 ARTIST'S STATEMENT
Melody O'Connor Allen
Creating art has been my passion since childhood. In school, I was the kid who emptied the art cupboard of paper to sit at my desk during lunch hour and draw. While I loved art, as an adult I decided to follow in the footsteps of my grandfather, who was an old-fashioned family doctor. My formal education started with a degree in Biology and led to my career as an academic surgeon at the University of Minnesota. I spent seven years as an operating surgeon, teacher, and researcher. My love of art was still strong, but had found a new outlet: shaping the education and minds of medical students and residents and conducting innovative research, different forms of art. More directly, using my intellect and experience to diagnose illness and using my hands to surgically remove disease and to repair the body were some of the most rewarding expressions of art I've ever experienced.
My career as a surgeon came to an abrupt halt in 1989, when I contracted a viral illness that turned my life upside down. After months, and then years, of fever, pain, confusion, and deadening fatigue, I was diagnosed with Chronic Fatigue Syndrome, an illness I still manage to this day. Frustrated by my many failed attempts to return to surgery, I was left with an intense need to use my mind and my hands. I returned to the childhood comforts of painting. My renewed immersion in the world of art was essential to my recovery, sense of accomplishment, and feeling of self-worth.
Inevitably, life changed once more with the welcome arrival of children into our family. I decided to set my painting aside and focus on bringing up two great kids. Now, twenty years later, the children are grown, and I have returned to my easel. My recent relocation to Southern California, my dream of 30 years, has changed my life and my artwork dramatically.
Currently, I paint pastel landscapes of local scenes and the rural Midwest and California, images that emphasize contrasts in light and shadow, texture and color. I have been indelibly influenced by the great Impressionist painters of Europe (Degas, Renoir, and Toulouse-Lautrec) and by California painters of the Impressionist period, in particular, William Wendt, Franz Bischoff, and Granville Redmond. I use very soft pastels on sanded paper, which allow me to add layer upon layer of rich pigment and give the images I create a more painterly effect and a fuller depth of color and texture. When I paint, time seems to stand still, and the stresses of everyday life fall away. It is my hope that my artworks convey this tranquil yet joy-filled mood to the viewer, while sensually connecting to familiar landscapes of California, the Midwest and the Twin Cities. In particular, my California paintings attempt to infuse the fragrance of sea air and eucalyptus into the color and light of my pastels. They are a graphic representation of my deep love for my new home, Southern California.
Updated 11/18/2014